When Heroes Fall
September 8 - October 29, 2022
Dinner Gallery (New York, NY)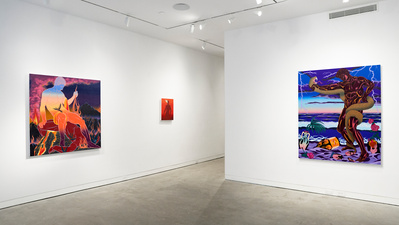 Dinner Gallery is proud to present When Heroes Fall, an exhibition of new paintings and sculptures by Paul Anagnostopoulos. This is his first solo exhibition with the gallery and will be on view from September 8th through October 29th with an opening reception on Thursday, September 15th from 6-8pm.
Following the structure of a trilogy, When Heroes Fall is the third installment of Anagnostopoulos' series of exhibitions which explore desire, longing and tragedy through classical Greek and Roman tropes, gay erotica and personal experiences.
The exhibition's title - pulled from Cher's popular ballad "Song for the Lonely" - captures the hyperbolic nature and melodrama of ancient Greek plays while also highlighting the disparate meanings and dualities that words can adopt; has the hero fallen in battle or rather fallen in love? By allowing opposing concepts to coexist in his works, Anagnostopoulos creates space for a new mindset.
Poised in scenes and positions of emotional vulnerability and desire, Anagnostopoulos' classical muscular forms of Greek male nudes subverts hyper masculinity and replaces it with tender moments of love and longing. His poetic landscapes, filled with desire and melancholy, shift conventional notions of virility to acknowledge queer perspectives that have often been erased.
Infused with kitsch and camp, Anagnostopoulos is particularly drawn to moments of humor and melodrama in his works. His distinct visual language recalls 90s era video games and surrealist orientations, composed of bright gradients and flat planes that thwart conventional perspectives.
Collecting and combining historical references, personal anecdotes, symbols and beliefs, Anagnostopoulos creates complex narratives that celebrate queer storytelling. Layered with significance and often shifting between micro and macro meanings, these works allow for deeper and more meaningful emotional connections.