Estuary: MFA Thesis Exhibition
April 20 - May 2, 2023
CUNY Hunter College (New York, NY)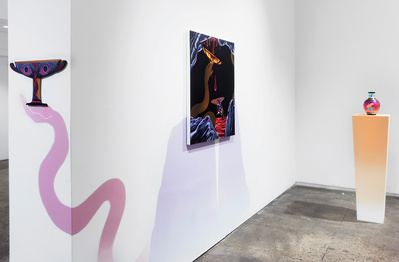 Foundation of abundance.
Rupture of plenitude.
Regeneration of fragments.
My work aggregates various histories, beliefs, and symbols translated across cultures as a way to explore Greco-Roman desire and melancholy. The oil and acrylic paintings serve as postcards from a timeless journey that may or may not have been experienced. These unclear memories invoke the rosy longing of nostalgia. In Sappho's brilliant portmanteau, there is γλυκύπικρον (glukupikron), or sweet-bitter, to the works.
In the work, two opposing forces coexist: abundance and loss, pleasure and pain, love and agony. This carries through to my aesthetic decisions regarding depth and flatness. The picture plane's surreal and contradicting layers of dimensionality create a vibration and a warmth. My palette operates similarly, and aims to seduce the viewer into an arduous account. The vibrant, sometimes gaudy, colors allude to kitsch and camp, allowing for moments of humor and melodrama to enter the work.
The paintings push back against homophobia by celebrating queer intimacy and storytelling. The scene's players are lifted from ancient art, gay erotica, and life drawing. These historical and hyper masculine images are manipulated to appear sensitive and emotive. With a shifted focus towards adoration and tenderness, they remain suspended in a fantasy of fulfillment. Male imagery is also sourced from pornographic material of the 1970s, '80s, and '90s—a moment when a powerful gay identity emerged in response to the beginnings of the AIDS crisis. By combining these visuals with ancient ones, I encourage viewers to meditate on queer history and focus on a neglected perspective. Each painting serves as a memorial to the members of these lost generations. I engage mythology, cultural motifs, and religious rituals rhizomatically, incorporating layers of significance on both universal and personal levels. Personal anecdotes regarding loss and rejection inform my process; I use mythic stories as vehicles for expression.
My process is a constant attempt to put the hypothetical broken vase back together again.
—excerpt from thesis: someone will remember us / I say / even in another time